Judy and Allan Wagner

Broker / Owner

in Boone, NC
Associate Information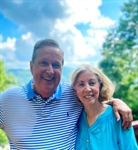 Professional Designations
ABR, ASP, e-Pro, GREEN, PSA, REALTOR, REALTOR (B), SRS
Expertise Types
Buyer Broker, Commercial, Condominiums, Land, New Homes, Ranches, Relocation, REO, Residential, Residential Investment, Rural Land, Single Family Homes, Townhomes
Allan & Judy Wagner are a Real Estate TEAM at NextHome Mountain Realty. We look forward to assisting you with every facet of the buying and/or selling process. Allan & Judy love doing what they do: Assisting BUYERS & SELLERS achieve their dreams in the High Country!

Among many awards, Allan & Judy achieved The Executive Award status and were the #1 AGENTS for three consecutive years in their division serving Northwest North Carolina.

"The greatest honors we receive are when our satisfied clients refer their friends & families to us, knowing we shall care for them with the same genuine care, experience and consideration we show all our clientele. We promise our best everyday and we always keep our promises."
ALLAN WAGNER

Allan is a lifelong resident of Watauga County who knows the High Country both "in-town" and out. Allan's professional background in real estate covers all facets including commercial and residential development. His experience includes the
Planning, construction of and management of a shopping center in Mountain City, TN
A decade in Log Home Manufacturing & Sales
Working alongside his father, who was the first Real Estate BROKER in Watauga County
Allan had been working full time as a licensed Real Estate Broker since 2000, but has worked in an around the industry for decades
Lifetime of local Knowledge from Valley to Mountain Top
Home Construction
This diverse mix gives Allan a unique perspective and true insight into the needs of the mountain home client. Allan's persistence and dedication allow him to assist those customers searching for that seemingly impossible property. He goes that extra mile and is a true gentleman and is highly regarded in the community.
Whether Buying or Selling, Allan's clients feel comfortable trusting him with their single largest asset. Allan is also an avid golfer, private pilot and PADI Certified SCUBA Diver. Allan and his wife, Judy, have two daughters and are the proud grandparents of Quinn.
JUDY WAGNER

Growing up in Miami, attending PACE High School & Miami Dade, Judy moved to Charlotte to attend Dental Hygiene School, graduating with honors, earning an RDH license in both Florida & North Carolina. She married her "Boone Boy" in 1971 and moved to Boone when Blowing Rock Road was a two lane highway and not one chain restaurant existed.
Boone has since grown, and blossomed into a beautiful and charming town, offering green development, culture & the arts as well as extraordinary educational opportunities thru Appalachian State University (from which Allan's grandfather graduated in 1910) along with Caldwell Community College and more..
Following her rewarding career as a Hygienist, & 20 proud years as a Community and School Volunteer, serving several terms on the Friends of Watauga Board, VP and President of the St. Joe's Room-mothers Association, Judy joined her husband, Allan, in real estate.
A devoted mother and grandmom, Judy has tirelessly volunteered with Watauga County Schools and the civic community, earning Volunteer Parent of the Year several times. Judy has also owned and managed her own retail businesses and while working in retail, was honored as the top salesperson in her region. Judy loves research of all kinds, especially with regard to the real Estate Market and home sales. Genealogy is another one of those research projects as well, and thru that research Judy acquired her Dual Irish-American Citizenship.
A true service professional, Judy treats her clients with respect and dignity. As an art major before entering the dental field, Judy is a natural at decor, Staging and Feng Shui. As one of the first REALTORS in the entire US to receive the National Association of REALTORS GREEN Designation responsible for arranging for about 60 others to get their Green, Judy can provide you with the information and sources to explore environmental and green strategies, and to refer you to experts who can help to make your home energy efficient.
Whether you have a home to sell or are looking to buy, we can help.
If you want to sell and add the most cost efficient retrofits to help sell your home, we can help.
If you are a buyer looking for a fully Certified Energy Star home or just Energy Star appliances, we can help.
If you need your home staged to sell for more and faster, we can help.
Wagner Team clients receive FREE home staging advice at time of signing
As to joining Allan in Real Estate: "We've been a team for more than 50 years, so working together in a profession we both love seems to suit us to a "T".
Judy works hard at her business, both online and in person, treating all her clients with respect and integrity. She says, "If I'm awake, I'm online."
Honored that her clients place their trust in her, Judy will work tirelessly to assist YOU to realize your dreams.
Judy is extremely interested in Sustainable Building, Solar Energy & Wind Power and was a member of the High Country Home Builders Association Green Building Committee.
Judy and Allan are always available: just a phone call, text or email away.

We value our clients, and we value YOUR time!
We respond to questions and emails with expediency!
You make us who we are!
We Promise You Our Best....We Keep Our Promises!

Judy is an Accredited Home Stager, ASP.
If you want to sell your home faster - STAGING techniques can help facilitate that. View our staged homes website, and view the statistics on how much faster STAGED HOMES SELL, just copy & paste this link to explore Staged Homes.
http://www.stagedhomes.com/mediacenter/stagingstatistics.php